Word on the Streets: City of Inglewood
Election season is upon us as new elections will take place in the City of Inglewood on April 2nd, 2013. Its interesting to see who has filed to hold the two upcoming City Council seats and three seats over at the Inglewood Unified School District.  My biggest concern for this upcoming election is for IUSD School Board Seat #1 currently held by Arnold Butler.  WHY IN THE HELL IS HE THE ONLY PERSON WHO HAS FILED FOR THIS SEAT?????  If you know someone interested in running against him, have them file with the City Clerk's office most expeditiously, you know, as fast as they can.
District 1
Most notably Daniel Tabor is throwing his hat back in the ring to run against incumbent, Mike Stevens, who has also filed to maintain his seat in Morningside Park.  My questions would be: how do we clean up the intersection of Manchester and Crenshaw?   Felecia Ford, George Dotson and Leroy Fisher are running as well.
District 2
Judy Dunlap has her hands full over in district 2.  With the hispanic population making up over 1/2 the total population in Inglewood, it is no surprise that both Alex Padilla and Joseph Soto have filed for this seat along with Aida Robinson-Davis.
School Board Seat #1
Arnold Butler is running unopposed.  The school district has been taken over by the state and NO ONE feels compelled to run against this guy?
School Board Seat #2
Carla Richardson-McGee and Marcelina Prado have filed for this seat against incumbent Ms. Alena C. Giardina.  Ms. Giardina has also held a seat on the City of Inglewood City Council.
School Board Seat #3
Trina Williams is going up against LaDeidre Wilson and Margaret Bowers.
Please note, if your name is misspelled it is an honest mistake for the names were given over the phone from the City Clerk's office.  We have talked to a few of the candidates and are preparing to interview for the residents to hear more about the candidates and their vision for a better City of Inglewood.  If any of the candidates wish to be interviewed, please contact us at:
2urbangirls [@] gmail dot com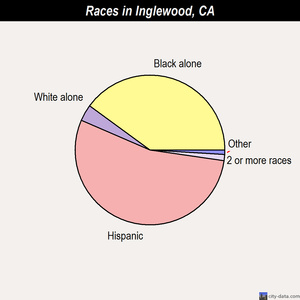 Hispanic – 55,449 (50.6%)
Black alone – 47,029 (42.9%)
White alone – 3,165 (2.9%)
Two or more races – 1,768 (1.6%)
Asian alone – 1,374 (1.3%)
Native Hawaiian and Other Pacific Islander alone – 323 (0.3%)
Other race alone – 345 (0.3%)
American Indian alone – 220 (0.2%)
Related articles
Kent Taylor REMOVED as State Appointed Superintendent to Inglewood Unified School District
Inglewood Unified School District acknowledges 59 PERFECT students
IUSD Makes Some Tough Decisions
---